While a certain Democratic ex-President has been trying to exploit the memory of today's terrible 15th anniversary to take a political cheap shot at millions of Americans, I prefer to commemorate a different anniversary.
Two hundred thirty-five years ago today, American patriots at Lexington and Concord ignited the cause of liberty on American shores. What was nearly unthinkable on April 19, 1775 — a ragtag band of Patriot colonists winning the hearts and minds of many countrymen, the support of the French crown and securing independence from Britain — eventually came to pass.
But the heroism of the farmers and craftsmen in small Massachusetts towns who stood tall against General Thomas Gage's Redcoats, including of the dozens who gave their lives, deserves its own spotlight today: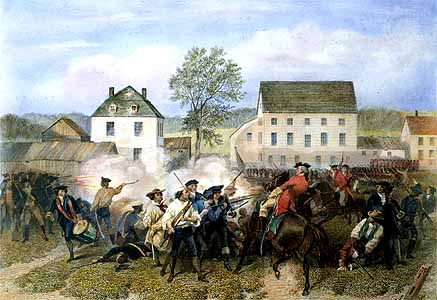 Fittingly, Ralph Waldo Emerson's renowned "Concord Hymn":
By the rude bridge that arched the flood,
Their flag to April's breeze unfurled,
Here once the embattled farmers stood,
And fired the shot heard round the world.

The foe long since in silence slept;
Alike the conqueror silent sleeps;
And Time the ruined bridge has swept
Down the dark stream which seaward creeps.

On this green bank, by this soft stream,
We set to-day a votive stone;
That memory may their deed redeem,
When, like our sires, our sons are gone.

Spirit, that made those heroes dare,
To die, and leave their children free,
Bid Time and Nature gently spare
The shaft we raise to them and thee.
If you're inspired to learn more, I recommend David Hackett Fischer's classic Paul Revere's Ride. Separate the legend from the history, and still find that there is a lot to marvel about.
Today's Tea Party Patriots have access to ballot boxes to defend our rights. But the historical lessons of courage and fortitude and fealty to liberty that reared their head some 235 years ago today are well worth recalling.